Invitée par son homologue du Panama pour inaugurer le stade Augustín "Muquita" Sanchez situé dans la ville de Chorrera, la sélection haïtienne de football battue (0-4) par la sélection locale, n'e s'est pas montrée à la hauteur de cette invitation.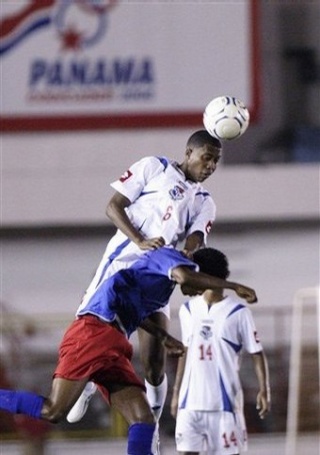 Il y a exactement deux ans et six jours, soit le 24 mars 2007, que la sélection haïtienne de football sous la direction du Cubain Luis Armelio Garcia avait battu son homologue du Panama (3-0) à Miami (Flotide,USA) en match amical de préparation à la Coupe d'Or 2007. Deux ans après, les Grenadiers, avec Jairo Rios Rendon aux commandes, se sont inclinés lourdement (0-4) mardi 31 mars dernier en match amical dans le cadre de l'inauguration du stade Augustin Muquita Sanchez.
Les 5000 spectateurs de cette enceinte ont fait la fête avec leur sélection nationale. Ainsi, les locaux n'ont mis que quatre minutes pour ouvrir le score grâce à Luis "El matador" Tejada. Les attaques répétées de part et d'autre n'ont rien changé. A la mi-temps, les locaux menaient par 1 but à 0.
Au retour des vestiaires, les Grenadiers encaissèrent trois nouveaux buts. Leur bourreau répond au nom de Blas Perez qui s'est offert un triplé (57e, 72e et 87e minutes). Au final, l'équipe panaméenne s'est imposée (4-0), lavant ainsi l'affront de 2007 et prendre sa revanche . Il s'agit de la deuxième victoire du Panama contre Haïti, après celle du 4 avril 2001 (2-0) à Panama City.
Les deux pays se sont déjà affrontés à sept reprises pour un bilan de 3 victoires haïtiennes (9 buts marqués) contre 2 victoires panaméennes (8 buts marqués) et 2 matches nuls. La première rencontre entre les deux pays remonte au 22 août 1957 à Curaçao. Haïti l'emporta (3-1).
Après cette cuisante défaite du Onze national, la presse panaméenne n'en reste pas moins élogieuse. "Una fiesta de goles", titre à la Une le journal "El panama America" pour expliquer le festival de buts réalisé par les Panaméens. De son côté, El siglo écrit dans sa page de couverture "Panama goléo a Haití en el Muquita", tandis que La Prensa se contente de titrer " Blas, Blas, Blas" pour faire allusion aux trois buts inscrits par l'attaquant Blas Perez.
Après avoir été éliminée de toutes les compétitions régionales et internationales, la sélection haïtienne de football a été tirée au sort pour jouer la Gold Cup 2009 (du 3 au 26 juillet 2009 aux USA) après le forfait de Cuba. A la tête de l'équipe haïtienne depuis le mois d'août 2008, le technicien colombien Jairo Rios Rendon accuse un bilan de 3 défaites, 1 victoire et 2 matches nuls.

_________________
Your Opinion is very important to us. Sign up to post your comments. Thank you
Admin





Number of posts

: 460


Age

: 36


Location

: PHILADELPHIA


Registration date :

2008-04-05



M TA RENMEN POU EKIP SA FE BAY LOT YO BEL TRIB POU YO RALE CHENE ESKEM MANTI HIS GLORY AK TOUT FRYAPOT



Number of posts

: 124


Registration date :

2008-05-26



LOLLLLLLLLLLLLLLLLLL RIRE SERIEUSEMAN MOIN GENLE TRONPE YON FI KA PALE KONSA MMMMM DAPRE SAM TANDE HIS GLORY PA KONN JWE BOOL OU SANBLE PI FO PASEL MAMA...LOL




Number of posts

: 201


Location

: Philadelphia


Registration date :

2008-05-25



Actions speak louder than words. I'm not the type of individual for arguments. Therefore, all I will say is

BRING IT!!!
-Br. M'o'
His Glory!



Number of posts

: 171


Age

: 35


Location

: Philadelphia, Pennsylvania


Registration date :

2009-01-31






Number of posts

: 23


Age

: 41


Location

: Phila, PA. The city of brotherly love


Registration date :

2009-04-10





Similar topics
---
Permissions in this forum:
You
cannot
reply to topics in this forum