FIFA.com: What does playing at the FIFA World Cup mean to you?
Roberto Carlos: The World Cup is the most important competition in world football, the one that brings together the largest number of great players. Taking part in a World Cup was the most important thing that has happened in my life. It's every player's dream.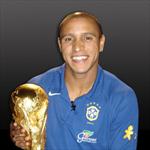 Brazil came into the 2002 FIFA World Cup with a very tight-knit squad. Would you attribute your victory to that?
Yes. That's exactly it. Right from the start of qualifying, Felipćo (Luiz Felipe Scolari) managed to build a team, which people in Brazil used to call the "Scolari Family". In this day and age it's very difficult to have a squad full of so many superstars and get them all pulling in the same direction, but Felipćo managed it.
Did those of you who played in 1998 and again in 2002 learn from the FIFA World Cup in France?
I think so...we learned another lesson. It was something like this: we played in a World Cup, we didn't win but we gained experience. So we didn't want to make mistakes again like we did in 1998. We didn't make many errors, because you don't get to the World Cup if you make a lot of mistakes.
Generally speaking, our preparation for the 2002 World Cup was different. The day before the Final was different, as was the big day itself. It was one of those days....how can I put this? Sometimes, it's better to just remember the celebrations afterwards. The night before we couldn't sleep because of the pressure of the game and the knowledge that we'd lost at that stage in 1998. On the day itself, we woke up early because of the time difference and spent the entire day in the hotel. We had lunch, rested a little, had an afternoon snack and then drove the 40 minutes from the hotel to the stadium. Can you imagine what the players were thinking? We wondered when it would end? I think that was a marvellous competition for us, though, as we managed to do in 2002 what we'd failed to do four years earlier.
When you were on your way to the stadium, were you thinking about winning the FIFA World Cup and holding it in your hands?
I thought about that, but I wasn't really fixated by it. I wanted to play well. I wanted the Brazilian national team to play well and for the 100-odd million Brazilians to cry like they did in 1998, but to cry tears of joy this time. Rodrigo, our press officer, has a recording of me saying that we were going to win 2-0 and that tape still exists today. Yes, I used to picture myself being able to touch the World Cup. Sometimes I ask my mates: "Do you guys know how much the World Cup weighs? Well, I do." That's because I was fortunate enough to lift it once, and I want to do it again. I want to do it all again.
How didit feel when you finally held the Trophy in your hands?
At that moment, memories of my family, my friends, and my country came flooding into my head... But what I thought about most, and I'm not sure if it made me cry, were the memories of 1973, the place where I was born, my friends, the tough times. I didn't give a moment's thought to the fact I'd played for Palmeiras, Uniao Sao Joao, Inter Milan or Real Madrid. At that moment in time I remembered where I came from, how I gradually worked my way up, step by step, in order to reach the Brazilian national team. And from making the Brazil team, to playing at the Copa America. From the Copa America to the Confederations Cup. And from the Confederations Cup to the World Cup. So I had to keep going up, up, up and that took a long time.
Given the quality of that particular Seleēćo, I thought that I could have been part of the team that lifted the World Cup in 1994. However, I only managed to achieve that goal eight years later. So much happened to me in those eight years, and that moment of victory was a time to reflect on a very difficult past. That said, I appreciate my past a great deal, because I think everything I experienced growing up has been valuable to me.
(Roberto Carlos spots the FIFA World Cup Trophy) Look at that! What a thing of beauty it is... Just look at it. Is this the real thing? Is it really?! I've got a replica of it at home... Marvellous! I'm not one for taking the Trophy in my hands much, as I spend all my time cleaning it... It's heavy isn't it? This here is fantastic. This here is the ultimate for any player and any human being.
The replica trophy you have at home, do you see it as a work of art?
This is totally different. I don't know who created it, but they've got good taste. The previous one, that was also very nice and it disappeared... I've got a photo like this, I don't know if you saw that photo in a magazine, where I'm like this with the Cup... It's a very nice photo and my mum had it framed. I hope to have the opportunity to lift it again. Take it back, I think it's better if I don't hold onto it for too long.

_________________
Your Opinion is very important to us. Sign up to post your comments. Thank you
Admin





Number of posts

: 460


Age

: 36


Location

: PHILADELPHIA


Registration date :

2008-04-05



HOLA CARLOS COMO ESTA , NAP TANN POU WORLD CUP 2010 REAL MADRID MISS U CARLOS TOO ALL THE BEST IN LIFE
CONTINUE SHARING THE LOVE FOR SOCCER.



Number of posts

: 110


Registration date :

2008-05-19



Moun yo so deep oui nan soccer mesye dame mmmmmmmmmmmmmm ooohhhhhhhhhh Levanjiltv grace ak ou map kontinye grabdi sportifman paske mwen te lock nan sans sa anpil mwen pa renmen soccer mwen pa janm bay sa impotanse men ou fe afew diferan ou minm se sak ki fe mwen paka viv san ou Levanjiltvvvv great jobbbbbbbbbbbbbbb

u




Number of posts

: 201


Location

: Philadelphia


Registration date :

2008-05-25





Similar topics
---
Permissions in this forum:
You
cannot
reply to topics in this forum