Convoqué dans une liste comprenant une vingtaine de joueurs évoluant à l'étranger pour préparer la Gold Cup 2009, le défenseur central de l'équipe de Nantes (Ligue 1 française), Jean Jacques Pierre, a décliné l'invitation du staff technique de la sélection haïtienne de football.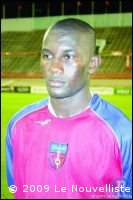 C'est officiel : Jean-Jacques Pierre ne veut plus jouer pour la sélection haïtienne de football. Après avoir reçu une invitation du staff technique en vue de jouer un match amical le 31 mars prochain contre le Panama et la Gold Cup 2009, l'ancien milieu de terrain du Cavaly de Léogâne n'est pas passé par quatre chemins pour refuser de porter les couleurs nationales.
"Salut, j'ai eu votre message, c'est gentil. Non merci, ici je suis bien grâce à Dieu", a répondu Jean-Jacques Pierre avant d'ajouter: "Depuis mes 19 ans, je jouais en sélection nationale, aujourd'hui j'en ai 28, donc neuf ans durant lesquels je me suis donné à fond pour la sélection, comme je le fais en club", a expliqué le capitaine nantais.
Revenant sur les raisons pour lesquelles il a pris cette décision, Jean-Jacques Pierre a fait savoir qu'il a toujours fait preuve de respect envers sa personne et envers ceux avec qui il partage et apprécie le football. "Depuis la dernière Gold Cup, il y a eu des doutes sur mes performances en sélection nationale, soit disant, j'ai tenu des propos contre mes partenaires disant que je ne voulais pas partager de chambres avec eux. Pourtant, je ne me rappelle pas quand j'ai eu des propos pareils. Ils ont dit également que je n'avais pas envie de jouer avec eux. Moi qui demande ça ?, s'est questionné Jean-Jacques Pierre dans une correspondance adressée à Wilner Etienne, membre du staff technique du Onze national.
Pour finir, Jean-Jacques Pierre répète clairement que c'est une décision personnelle. "Malheureusement pour moi, je ne pourrai pas participer aux éventuels prochains succès de la sélection nationale. C'est une décision personnelle et j'assume mes responsabilités. Alors sur ce, je souhaite bonne chance pour la suite. Ici, (à Nantes) au moins, je suis respecté, et quand je suis blessé, eux au moins, ils ne disent pas que je n'ai pas envie", a conclu Jean-Jacques Pierre dans ce courrier électronique.
Rappelons que récemment Patrice Dumont avait déclaré que Jean Jacques Pierre s'est dit prêt à revenir en sélection nationale moyennant que le staff technique fasse appel à sa personne.
(lenouvelliste)

_________________
Your Opinion is very important to us. Sign up to post your comments. Thank you
Admin





Number of posts

: 460


Age

: 36


Location

: PHILADELPHIA


Registration date :

2008-04-05



si j'eais a sa place je ferai la mm se yon drole bagay di pawol moun nan pa di ki veut dire moun nan pa mouri pou yo fe rad mete sou li t'a bien reaji Jean Jacques Pierre...



Number of posts

: 201


Location

: Philadelphia


Registration date :

2008-05-25




---
Permissions in this forum:
You
cannot
reply to topics in this forum