Thu Mar 19, 2009 10:26 pm EDT
Indian Wells boycott hurts Williamses more than it helps
By Martin Rogers
INDIAN WELLS, Calif. – One of the longest tournament boycotts in tennis history is now in danger of becoming one of the most self-defeating.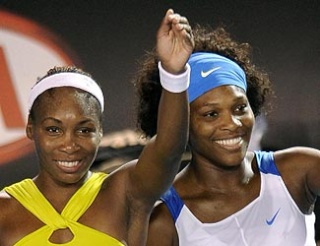 For the past eight years Venus and Serena Williams have refused to play at Indian Wells, in the event now known as the BNP Paribas Open. What began as a point of principle has morphed into a million-dollar decision and with each passing season it becomes more apparent that the biggest losers in this issue are the Williamses, not the tournament they hope to detract from.
The root of the dispute is the 2001 tournament, when the superstar sisters were fiercely booed by an angry crowd when Venus defaulted to Serena, citing a bout of tendinitis. This was moments before they were due to square off in an eagerly awaited semifinal – in front of a packed crowd and a national TV audience.
When Serena emerged for her final against Kim Clijsters two days later, she was targeted by the crowd, causing father Richard Williams to shake his fist furiously and call for security as he sat in the stands.
Richard Williams claimed he and his family had been subjected to racial abuse, even invoking the name of Martin Luther King Jr. and the demons of another era. He and his daughters have never ventured back to the Californian desert.
Estimates of how much the first family of women's tennis is surrendering by staying away from Indian Wells for the past two weeks range between $1 million and $4 million.
Serena, as world No. 1, will potentially miss out more, forfeiting her share of a $1.9 million bonus pool for skipping this event – one of four mandatory WTA Tour competitions.
Yet it is in terms of reputation where the Williams sisters give up the most. Consensus in the tennis world is that eight years should be long enough for wounds to close, especially regarding a situation that is still shrouded by so much doubt and mystery.
Time has not healed wounds, far from it. Indeed, the passing years have merely served to escalate the issue into something greater, and a resolution may be further away now than ever before.
The Williams clan flies solo in its claims of racial abuse; there were no reports made to tournament officials about such behavior at the time. Nearby patrons and security staff expressed surprise when informed of Mr. Williams' remarks.
On the surface it appears as though an apology from Indian Wells would surely be enough to smooth out the differences. But what exactly would the tournament be apologizing for?
"Venus and Serena know they are welcome here and the fans would love to see them," said tournament director Steve Simon. "We would be delighted if they decide to play in future years – if not, then they will deal with the repercussions."
The Williams boycott is discussed every year, but took on extra significance this time around. The WTA Tour's 2009 Roadmap program has a provision to punish leading players for skipping "mandatory" events such as Indian Wells, Miami, Madrid and Beijing.
Under the program, Venus and Serena must perform promotional duties for the 2010 BNP Paribas Open or face a fine and expulsion from next year's Miami tournament. They already miss out on the bonus pool and receive a zero-point ranking for Indian Wells.
If the duo is hoping to hurt the tournament then the plan is not really working.
Despite a difficult economy, attendance until the middle of the tournament's second week had increased about 8,000 from 2008. TV ratings also were strong, helped by the continued progress of Rafael Nadal, Roger Federer and home favorite Andy Roddick.
Simon and the tournament chiefs would obviously love to have the two most marketable names in women's tennis participating in the event, but they can't be shedding too many tears.
Indian Wells has simply adapted to life without the Williamses' presence. Furthermore, their name has become more intrinsically linked with this event than any other, due to this very controversy. And while the issue is hardly positive publicity for the BNP Paribas Open, it has kept the event in the public consciousness for months.
Too much doubt and too much time elapsed for Venus and Serena to garner genuine widespread sympathy for their stance.
"I think it's personal stuff for Serena and Venus," said No. 4 seed Vera Zvonareva. "I really am not that familiar with their situation, so it's tough for me to judge from the side.
"Of course I would like to see the Williams sisters play in every tournament, because they are great for the crowd. They bring great atmosphere. They're great champions. But besides that, there are so many great players out there."
The most noticeable by-product of the Williamses' absence has merely been to offer a slightly easier passage to some of their rivals – although a spate of upsets this year has prevented the No.1 contenders from capitalizing.
"It does create opportunities, them not being here," said Victoria Azarenka, the rapidly climbing world No.11 from Belarus. "You have to feel confident against every opponent but it does make the draw a little more open and there are some more chances for players to make a run."

_________________
Your Opinion is very important to us. Sign up to post your comments. Thank you
Admin





Number of posts

: 460


Age

: 36


Location

: PHILADELPHIA


Registration date :

2008-04-05



wowwwwwwwwwwwwwww more and more what can i say sanble ke ekip la pa ka viv san de medame sa yo so mwen ta di ke li ta bon si yo mete sak pase a deye epi retounin e kontinye fe ke fool la kontan pske si yo renmen game nan m panse yo pap ka viv san game nan tou so come back guys and make pipo proud they

u guysssssssss so bad

mmmmmmmmmm levanjanltv se ouk pou ta fe sa nan la vi mwen ou chanjel konpletman




Number of posts

: 201


Location

: Philadelphia


Registration date :

2008-05-25



KONTINIE JWE MEDAM




Number of posts

: 124


Registration date :

2008-05-26



Don't be discourages ladies! Dont forget where you came from, dont forget the church, DONT FORGET GOD! -and He wont forget you.

Be Blessed!
-Br. M'o'
His Glory!



Number of posts

: 171


Age

: 35


Location

: Philadelphia, Pennsylvania


Registration date :

2009-01-31





Similar topics
---
Permissions in this forum:
You
cannot
reply to topics in this forum