This was summer, a private corner of the Beijing Normal University gymnasium and Dwyane Wade had to laugh. Yes, he understood the nature of the public's fleeting focus, but his had been a furious free fall. His greatness had been out of sight, out of mind.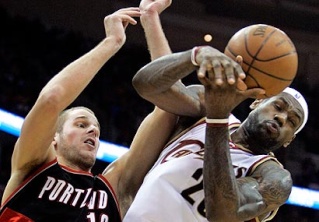 "I was written off in one year quicker than anybody had ever been," Wade said.
Kobe and LeBron.
LeBron and Kobe.
The NBA's genius trio had dwindled to a duet.
In the minds of most, D-Wade had been deleted.
"Being injured, it was like I had forgotten how to play basketball," Wade said. "But it made me hungry and it put me back in the position where I've always been and that's the underdog."
Once the United States had won its gold medal in the Summer Games, there was one thing that everyone within USA Basketball could agree upon: The MVP was Dwyane Wade. Across the summer, he had been the best player. He had returned bigger, stronger and as explosive as ever. Kobe and LeBron were the starters, but Wade became the closer for Team USA. Everyone should've seen him coming this season, a freight train gathering speed in the distance.
Wade isn't the MVP yet, but he's in the conversation. He probably isn't going to win the award on a team just five games over .500, particularly when Kobe and LeBron are fighting for the best record in the NBA. That's just how it goes.
Nevertheless, Wade has restored his standing as one of the planet's genius talents. When Wade beat the Chicago Bulls on that steal and running three-pointer at the second-overtime buzzer on Monday night – a performance resulting in 48 points, 12 assists, four steals and three blocks – his candidacy reached its crescendo.
Wade is leading the NBA in scoring, pushing 30 points a game, and ranks second in steals. Most of all, he's shown again that he's capable of everything that LeBron and Kobe can do. This is the perfect position for him again, on the comeback, because Wade was never the teen basketball prodigy. He was never the next big thing. He's snuck up once, and now he's done it again.
"You need things to push you, and I found them," Wade said during the summer. "Listen, I won a championship. I've been a Finals MVP. I've had All-Star games. I'm on every commercial you see. My life is good.
"But you have to keep going and keep going. There are always guys that are going to push me. LeBron and Kobe are two of the best talents this game has ever seen. If you want your name to be right there with them, you've got to continue working hard. There are always things that are going to push you."
Wade has been surrounded with pedestrian talent, but he's made them the team that nobody wants to play in the first round of the Eastern Conference playoffs. With the summer of 2010 looming, Wade has delivered a reminder to NBA owners and general managers about the definition of a franchise player: All alone, he can make a team relevant. All alone, he can get a team out of the first round.
Those stars are rare, and Wade is still one of them.
When he missed so many games over the past two seasons with injuries, yes, it was easy to count him out of the Kobe-LeBron conversation. He had an NBA title, a Finals MVP award, but Wade had threatened to turn into a superstar more synonymous with his commercials and billboards than a worldly greatness. No more.
Now, the NBA's genius duet is a trio again.
Kobe.
LeBron.
D-Wade.
Again.
Adrian Wojnarowski is the NBA columnist for Yahoo! Sports.

_________________
Your Opinion is very important to us. Sign up to post your comments. Thank you
Admin





Number of posts

: 460


Age

: 36


Location

: PHILADELPHIA


Registration date :

2008-04-05



AHHHHHHHHHHHHHHH BAGAY SERYEM KA FE SA MOIN FE PI MAN NAN VOLLEY BALLLLLLLLLLLLLLLLLL




Number of posts

: 201


Location

: Philadelphia


Registration date :

2008-05-25




---
Permissions in this forum:
You
cannot
reply to topics in this forum