WHAT DO YO SAY WHEN YOU LISTEN TO THIS GOSPEL SONG BY "MESYE LEMOND YO" INCLUDING ROBERTO (T-VICE), GAZMAN (NULOOK), SHABBA (DJAKOUT MIZIK).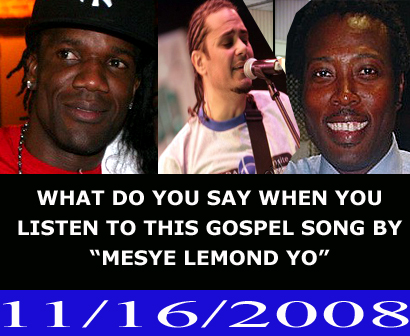 CLICK HERE TO LISTEN TO THE SONG

_________________
Your Opinion is very important to us. Sign up to post your comments. Thank you
Admin





Number of posts

: 460


Age

: 36


Location

: PHILADELPHIA


Registration date :

2008-04-05



Wow, this doesn't make any sense. I wonder where they going to perform this song. Mwe pa kwe yo ak Jezu vre non nan bal la avek nan hotel la apre bal la.



Number of posts

: 141


Age

: 34


Location

: Philadelphia


Registration date :

2008-05-16



I have no issues or whatsoever we the secular singer, God did send His son for the healthy but for the sicks; However, i do have issue with anyone trying to advantage of the gospel sector. I encourage Christian artists to stand up and be the light for Christ sake. On top of that, there's no anointing on these types of materials!! We should take disciplinary action against or ban these types of projects !!! quite frankly, It's a lack of respect for the christian community.
How can one serve two master simultaneously? It's either one or the other

Remember this, spiritual compromise for the sake of unity will sooner or later lead to moral depravation!!!

Whoever started that trend take note!!!!



Number of posts

: 3


Registration date :

2008-11-17



I'm sure they do it for money. Jesus said there will be false prophet. Look out for them.



Number of posts

: 200


Location

: NJ


Registration date :

2008-05-23



copied from kompamagazine.com

<<When we asked ROBERTO MARTINO about the project, he told me "TI MESSIEURS GOSPEL yo GIN yon COMPAS NAN MIN YO ki enraje." Which confirms what many in the HMI circles have known in regards to gospel musicians.>>




Now where are the gospel artists, musicians, the big and top gospel bands?
What is that telling you all? Are they mocking us christians or what?

Talk to me people



Number of posts

: 3


Registration date :

2008-11-12



To me, there's nothing wrong with "LEMOND" interpreting CHRITIAN"S songs as long "yo pa pran non BONDYE an ven". I know many people might think they did it to tease christians. However, I have an optimistic view about it. Just because they're out there clubbing and doing all kinds of pessimistic stuffs don't mean that they don't believe in GOD. Many of these musicians grew up in church but gave up later on... because of money and popularity. Albeit, I still believe they have chance to save their souls if they only take "LEVANJIL" seriously.





[/size][/size][/justify]



Number of posts

: 44


Age

: 29


Location

: BROOKLYN, NY


Registration date :

2008-05-17




---
Permissions in this forum:
You
cannot
reply to topics in this forum