Congrats! On behalf of Les Freres Deronette & Family, we would like to CONGRATULATE our brother Rosiny Deronette on his upcoming graduation (Evangelist Study). It makes us proud to be able to offer our congratulations on his graduation from (Theological School of Open Eye with Bishop Cormeille Jean). We know how long and hard Rosiny have worked and studied the words of God. But, his dedication and perseverance has paid off, and he should be very proud of his accomplishment.

For that, we would to inform you of Rosiny Deronette?s (Evangelist) graduation ceremony in which will take place on June 28, 2008 at 911 Flatbush Ave. Brooklyn, NY 11226 from 1pm-5pm. Please contact the man himself to give him a word support and encouragement (646) 294-2424.

Keep setting your goals and you can achieve what you now only dream of!

I wish you all the best in pursuing a new career in your chosen field. Well done and God Bless!

Sincerely,
Casimir Deronette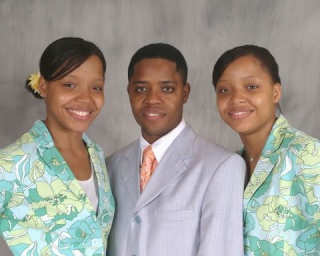 _________________
Your Opinion is very important to us. Sign up to post your comments. Thank you
Admin





Number of posts

: 460


Age

: 36


Location

: PHILADELPHIA


Registration date :

2008-04-05



CONGRATS ROSINY !!! IT'S ALWAYS GOOD TO ACHIEVE MORE THAN EVERYONE CAN THINK OF. MAY GOD USE YOU AS HIS INTERPRETER TO PREACH THE GOSPEL AND WHO EVER BELIEVES IN IT WILL NOT PERISH BUT HAVE ETERNAL LIFE. GOOD LUCK BROTHER .

THIS IS THE GUY WHO BECAME A PASTOR !!! AMENNNNNNNNN!!







Number of posts

: 44


Age

: 29


Location

: BROOKLYN, NY


Registration date :

2008-05-17



Li toujou bon pou nou etudye la bib e se sa Rosiny di li fe. Lap mache selon sa Bondye dil. Li pa met tet li. Si Bondye relel poul fe leglise lap fel, poul chante lap fel, poul preche lap fel. Sa se yon bon egzanp pou nou tout. Li pa al cherche pasteur poul fe lajan men poul konnen labib. Kenbe la Rosiny e Bondye ap beniw plis toujou.



Number of posts

: 141


Age

: 34


Location

: Philadelphia


Registration date :

2008-05-16



Il est ecrit quelque part dans la BIBLE " DIEU fait don aux hommes"
etudye la teoloji pa few ni PASTE ni EVANJELIS . li sel mwn few yon bon etidyan
d'ailleur le pasteur or evangeliste est un don accorde par DIEU .
ni semine pa fe peson evanjelis ni paste , li selman fe-w yon seminaris.
Frem li pa inposib non pou-w yon evanjelis, min ketion m ta vle pozew
eskew konsyen se se bondye ki relew ? ou bien sejis yon profon desi?





Number of posts

: 8


Registration date :

2008-05-19



Congradulation, travay sa pa fasil meme si ou wel bel
bien ke ou fel an chantant, bien focus ak Jesus e bon Dieu ap avew
pa blye mo ke nou toujou ap anpil aple men peu d'elu
compliman anko mil fois
se pi gwo jes ou fe la devan l'Eternel tande e pran precaution anpil
Anderson cameau
Apocalypse 2000



Number of posts

: 5


Registration date :

2008-04-06



Hello all,
On July 15th 2008 Les Frères Deronette, Rosiny, Wilson, Brunel, and Casimir traveled to Haiti on a mission determined to make changes in lives we encountered. Initially, our mission was geared at providing financial assistance to underfunded hospitals that were quite essential to local communities in Haiti. We gave these facilities supplies and medications that were much needed but they lacked. Although we were able to provide this sort of aid with much success, along the way our mission turned into something much greater and impacted not only the lives of those we meet with but also in our personal lives as well. We had the opportunity of meeting with a number of individuals, both in personal settings and formal gatherings and despite poverty, hunger, and homelessness and each individual was humble and one could tell that they led a life of hope. To keep this hope alive we (les Freres Deronette) have arranged to open a free public school. We are proud to announce that "Deronette Espwa Fe Viv (Deronette hope is life)" public school is scheduled to be launched in September of 2008. One can imagine the magnitude of hope and changes this achievement will bring, as well all know that many children do not have access to an education because they can not afford one. However, Deronette Espwa Fe Viv will be dedicated to those children that have been turned down.
During our mission we learned that these people simply needed some one to listen to them. As a result we held a number of conferences and meetings and gave each individual the opportunity to express themselves and the circumstances they were living in. As a result, we were fortunate enough to provide the basic necessities of life to many that they could have not afforded otherwise, such as shoes, soaps, tooth brushes, toilet paper and clothing. We also held a food drive, feeding over 250 children, men, women and families. Through our gathering we mapped out further initiatives that should be taken and we recorded the opinions of the people. We were able to reach out to so many people, families, public facilities and churches. In fact, we hosted two benefit concerts with over 15 thousand people present. Although we may have not been able to financially support all 15 thousand people we were blessed enough to touch their heart through our ministry.
Upon visiting a mission complex and witnessing the conditions of the lives of some many children I(Casimir) was moved in a direction to adopt a child in the next coming year. My heart goes out to every child under those circumstances, and with my intentions to adopt I hope to be able to make a difference in ones life.
Our mission throughout Haiti was a rewarding experience because we are able to help so many people. We visited a number of towns, including Turks and Caicos, Cap-Haitien-Haiti(North Haiti, Leogane-Haiti, General Hopital, and Bon Repos-Haiti. Through our mission work we left the imprints of hope in each person heart of the people. Although our mission in Haiti lasted two weeks and while much was accomplished, we have learned what further steps need to be taken. We continue to keep each individual in our hearts prayers as we continue to find solutions to improve the conditions in Haiti.
Sincerely,
Casimir Deronette
Public Relations and Promotions
www.lfd12.com



Number of posts

: 6


Age

: 36


Location

: New York


Registration date :

2008-04-25



HEY ROSINYYYYYY WOWWWWWWWW I DON'T KNOW WAT 2 SAY ABOUT THAT ,BUT U KNOW CONGRATSSSSSSSSSSS ,WOWWWWWWWWWWW U KNOW WHILE WE ARE HAPPY 4 U SOME PEOPLE ARE VERY MAD ABOUT UR NEW PROMOTION,BUT GUESS WAT WE DON'T CARE BCOZ THIS IS GOD WAY WHEN MEN THINK DAT THEY CAN CLOSE 1 DOOR 4 YA 2 NOT GO FOWARD ,BUT GOD OPEN 7 MORE 4 YA ,SO DON'T USE IT 2 SHOW OTHERS ,BUT USE IT 2 BE A GOOD MODEL SO OTHERS CAN FOLLOW U OLD SAW GEN NAN MENW LAN DUR POU PESON PA TAKE IT AWAY FROM U.GOD BLESS U ONCE AGAIN CONGRATSSSSSSSSSSSSSS:!:




Number of posts

: 201


Location

: Philadelphia


Registration date :

2008-05-25



CONGRATS ROSINY MAY CONTINUE TO GUIDE U N PROTECT U U WILL FIND DIFFULTIES BUT U GOT TO HOLD ON CUZ GOD IS THE KEY TO ALL DOORS THAT CAN,T OPEN SA SE YON BON CHAW. BA LEVANJILT LA JAN L YE SA KI VLE TANDE L LA TANDE L .
GOD BLESS U BROTHER










Number of posts

: 8


Registration date :

2008-05-19





Similar topics
---
Permissions in this forum:
You
cannot
reply to topics in this forum